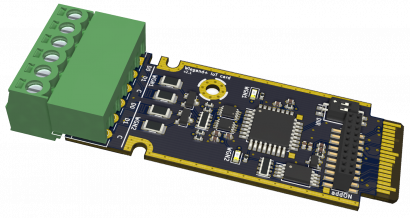 The Wiegand interface is a well-known, universal interface in access control systems. It can be either access control in a large office building or a single barrier or door. Our IoT card allows both the connection of an external system or reader (configured as an input) and the direct connection to the management system and the transfer of identifiers directly to the controller (configured as an output).
With our software you can create an autonomous, manageable passageway. For example: by connecting a reader and adding the addON extension you have the possibility to directly control and manage access. We give you the opportunity to build a simple access control based on two one-sided or one two-sided passages. There is nothing to prevent these types of controllers based on FX30 from being combined into a larger system and integrated with the cloud!
The integration of automatic license plate recognition cameras is worth mentioning.
The IoT card allows you to send and receive 8 to 64 bits long identifiers.
Dimensions W x H x D

31.0 x 66.0 x 17.5 mm

0.5 to 1.5 mm2
20 to 16 AWG

15 m (recommended)
50 m (good quality cable)

Number of Wiegand channels

Wiegand channel direction